You know that price isn't everything.
There's never been a consistent way to quantify consumer value until the Vive Score.
The Vive Score weights important factors beyond price.
The Vive algorithm considers the following weighted factors:
Financial Strength

– as defined by the Comdex Index

Conversion Privileges

– based on products eligible for conversion and length of conversion period

Product Features

– ranks premium grace periods and accelerated death benefit offerings

AU Eligibility & Probability

– considers if the proposed insured is eligible for Accelerated Underwriting (AU) and the probability AU will be offered

Speed & Process

– measures speed of policy from submission to issue (average number of days from prior three months) and if e-app/e-interview is offered
Vive aggregates all of these factors to display an overall Vive Score for the product.
Simply hover over the Vive Score on the quote screen to see more details.
You gain an instant level of product expertise.
The Vive score is at its most valuable when you discuss options with a client before completing the order. It can provide you a sound, product-specific rationale for a recommendation that may not be the least expensive option. No matter how you leverage it, the Vive Score supports your reputation as an informed consultative professional.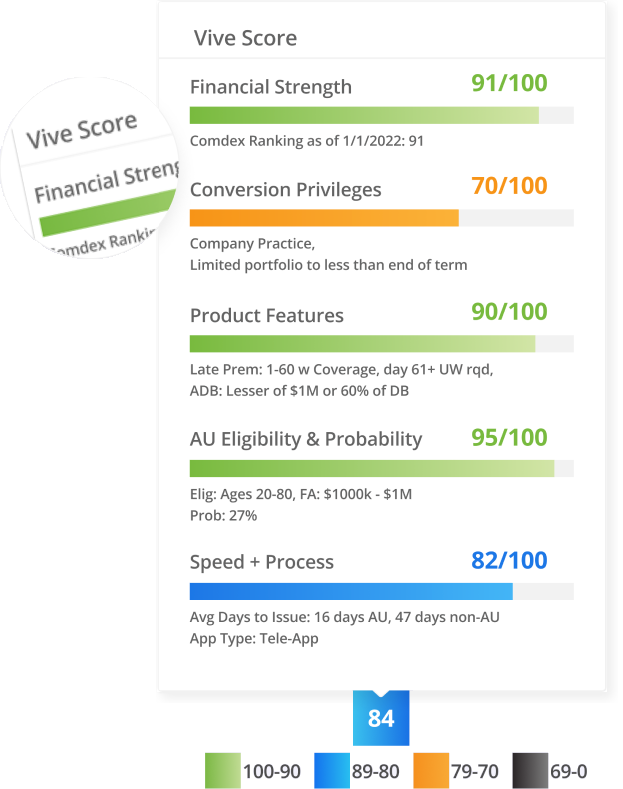 Major updates include!
Now Dynamic!
AU Eligibility and Conversion scores will now be reflexive. Prior methodology was static and did not consider details of the client.
AU:

carriers will now be scored on their AU criteria (age, face amount, class) specific to the client's details

Conversion:

updated to include conversion length which measures how many years conversion is offered to the client (prior methodology was static and did not consider details of the proposed insured)
New components:
Speed and Process:

efficiency matters, and we are now measuring speed to issue and considering application type options

AU probability:

assesses the likelihood an AU eligible client is approved for AU